NAME:
Tiaan Visser
 
FARM'S NAME:
Nuweland
AREA:
Augrabies – Northern Cape
PRODUCE/COMMODITY:
Table grapes
FARM SIZE:
100 ha
HECTARES BREAKDOWN:
85 ha table grapes
10 ha grapes for juice
5 ha for raison production
NETTING:
85 ha
PACK-HOUSE ON THE FARM:
Yes
EXPORT MARKETS:
EU, UK, Middle and Far East
ACCREDITATIONS:
Fairtrade, SIZA, BRC, GlobalGAP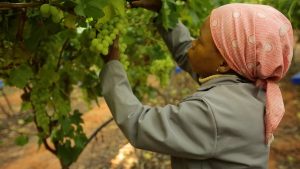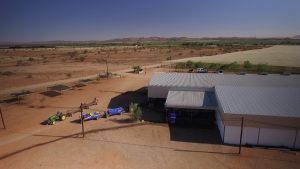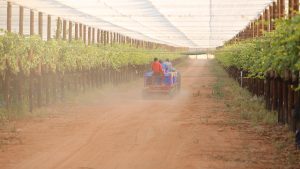 Tiaan Visser lives to lead by example. He believes that only by respecting other people will you be respected. And with mutual respect a team can achieve greatness – as reflected in Nuweland's motto "respect earns respect". According to Tiaan, managing a farm is like managing any other business: your employees are always your biggest asset. Tiaan has worked with some of the farmworkers on the farm for 25 years, including the third generation of one family. The most satisfying part of his job, he says is to empower people and make a profit in order to thrive.
How do you ensure that Nuweland grows top-quality export fruit?
My strategy is to ensure that I marry all the best available technology and products, both old and new, into a practical and manageable system on the production side of the farm. 
What is the most critical part of table grape farming?
Since table grape farming is very labour intensive, the people that work on the farm are the critical ingredient. When everyone understands what needs to be done and why specific actions need to be taken to achieve certain goals, then only can productivity be achieved. I also believe that tasks need to be allocated to the people whose skills best fit the task at hand. 
How do you ensure the social upliftment, as well as safety and healthy living conditions of your farmworkers?
On Nuweland there is a daycare centre that provides afterschool care as well as two balanced meals per day to pupils. AET (Adult Education and Training) and pre-AET classes are provided and paid. Permanent employees have access to medical aid and pension funds. In addition we are Fairtrade, SIZA, BRC and GlobalGAP accredited and to achieve that, one must be on top of all the standards set out by them. These international standards are far higher than what is nationally acceptable, with regards to housing and the living conditions of farmworkers. We are proud to have achieved this certification. 
How has farming changed over the last five years and what are some of the changes you have implemented?
Over the years farming expenses have increased a lot more rapidly than income received. So to ensure that we remain in profit and are able to grow, I focus on streamlining production and being as efficient as possible to deliver the best results.
How does SAFE ensure that Nuweland remains modernised and keeps up with the latest farming technology?
SAFE provided the farm with a top-of-the-range, computer-driven irrigation system that is linked to an on-site weather station and soil probes that monitor effective irrigation for optimum growth. We are also aware of chemical drift from spraying pumps that land in our soil and as a result, we decided to take extra care of the bacterial and fungi part of soil life by supporting it with beneficial supplements – with excellent results.
Tell us about a day in the life of Tiaan Visser?
Contrary to popular belief, for much of the year (11 months) there is no time for sitting on the stoep and drinking coffee! Working days start early, sometimes from 06h00 and can go on to 21h00. The biggest part of my job is managing employees to contribute their best. Surprisingly there is little time spent on the actual grapes. During harvest we have about 380 farmworkers, so most of my day consists of managing employees to deliver their best day after day.
What ambitions do you have for Nuweland?
My ambition is to maintain a happy, well paid productive workforce and secure the biggest profit possible for Nuweland that is critical to our survival. I also need to keep the technological and mechanical side of the business up to date and in good order to ensure our success.
What is most fulfilling about your job?
The best part of my job is seeing the results of all the effort and hard work that goes into farming. When people, who are well-housed and well-fed have happy faces as they tend to the vineyards, then I am happy!
Which three qualities does one need to be a successful farmer in South Africa today? 
A mixture of stubbornness, flexibility and a willingness to change.