| | | |
| --- | --- | --- |
| NAME: | Christie Henn | |
| FARM'S NAME: | Bonathaba | |
| AREA: | Western Cape | |
| PRODUCE/COMMODITY: | Table grapes & Citrus | |
| FARM SIZE: | 327 hectares of which 185 hectares are planted | |
| HECTARES BREAKDOWN: | 100 ha table grapes (Flame Seedless, Tawny Seedless, Sugrathirteen (Midnight Beauty), Victoria, Dan Ben Hannah, Desert, Thompson Seedless, Moonballs, Sheegene (Allison), Redglobe, Crimson Seedless, Melody, Magenta Sugranineteen (Scarlotta), 45 ha pomegranates; 29 ha clementines; 11 ha lemons | |
| NETTING: | 6 ha lemons | |
| PACK-HOUSE ON THE FARM: | Yes (only for table grapes, not citrus) | |
| EXPORT MARKETS: | Europe, United Kingdom & Far East, including Southeast Asia | |
| ACCREDITATIONS: | SIZA, GLOBAL G.A.P. & Confronting Climate Change ("B" Grade) (Currently also upgrading the pack-house and infrastructure to comply with British Retail Consortium (BRC) Global Standards) | |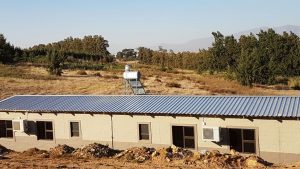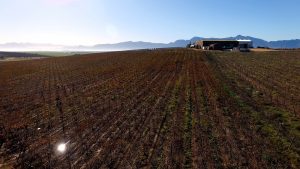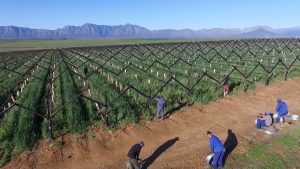 Christie Henn is a farm manager with a passion for sustainable farming and a real heart for his farmworkers. Under his leadership Bonathaba, the SAFE table grape and citrus farm near Wellington of which he has been senior manager since 2006, achieved a Confronting Climate Change B-grade certification last year. Henn is serious about shrinking Bonathaba's carbon footprint. He is equally committed to improving his farmworker families' lives – up to building a fully-fledged crèche to give Bonathaba's pre-schoolers a head start. His next dream? A well-run aftercare centre for farmworkers' children – to give their parents complete peace of mind.
How do you ensure Bonathaba grows top-quality export fruit?
Growing the best quality fruit means we have to work together as a team – to ensure all vineyard and orchard practices are carried out in the most effective way. These include soil preparation, planting, irrigation, using the correct plant material and developing plants up to when they start bearing fruit. Crop preparation should be done at precise times, and during harvest time fruit should be packed at optimum levels of ripeness.
What is the most critical part of table grape and citrus farming?
Quality, without a doubt! In this way, consistency as well as the best product for the market can be achieved. The market demands a uniform product with little or no variance.
3. How do you ensure the social upliftment, as well as safety and healthy living conditions of Bonathaba's approximately 200 farmworkers?
Our management promotes healthy family living. Our farmworkers' houses are regularly maintained and we make sure their children can attend good schools. Our workers also have access to medical services, clinics and first-aid assistance. Bonathaba believes in investing in our staff's training – to ensure a better future for them.
 4. How has farming changed over the last five years and what are some of the changes you have implemented?
In the Western Cape we're witnessing the worst drought so far in our lifetime. This means we've had to come up with clever water usage solutions. (A few years ago the focus wasn't that much on water usage.) So, we installed irrigation probes and within the first year already saw dramatic changes in irrigation scheduling. We continuously measure our soil moisture levels which dictate how much, where and when we should irrigate. The use of probes also resulted in a significant cut in electricity usage, which in turn decreased Bonathaba's carbon footprint and electricity bill.
How does SAFE ensure Bonathaba remains modernised and keeps up with the latest farming technology?
SAFE invests substantially in new technology – such as soil moisture probes, irrigation automation and soil mapping – and infrastructure to ensure farms adhere to international standards. They also encourage us to participate in seminars and open field days to stay on top of the latest market trends. For example, last year we travelled to the USA to attend the Bakersfield open field days to evaluate new table grape varieties.
Tell us about a day in the life of Christie Henn?
A manager is the first person on duty and the last one to leave. I start my day with administrative tasks until our workers arrive. When they start, the day's specific tasks are outlined and communicated to our team leaders. The rest of my day can include giving spraying instructions, obtaining updates, training or addressing social problems. Inspecting vineyards and orchards to ensure we achieve the right standards normally constitutes a large part of my day. Planning is an ongoing process.
What ambitions do you have for Bonathaba?
I want Bonathaba to be regarded internationally as a farm that consistently produces top-quality fruit in a sustainable way; a leader in the latest technology and practices; and a farm that uplifts people and inspires them to achieve greater heights.
What is most fulfilling about your job?
The best thing about my job is my place of employment: to be outside and close to nature, the fresh air and beautiful scenery; seeing how everything is connected and the important role little things play in this bigger picture. When you, after pruning a vine, see how buds day after day mature into the perfect bunch displaying the perfect colour, it's incredibly rewarding. And, when my young daughters describe Bonathaba's grapes and citrus as the best tasting fruit in the world, it says it all!
With 24 years' farming experience, which three qualities do you think a successful farmer in South Africa need today?
Be adaptable, humble and hardworking.