NAME:
Nico Schade
 
FARM'S NAME:
Nuwepos
AREA:
Vanrhynsdorp Olifantsrivier
(Western Cape)
PRODUCE/COMMODITY:
Table grapes
FARM SIZE:
108 ha
HECTARES BREAKDOWN:
Thompsons: 16.6 ha
Crimson: 40.4 ha
Sugra1: 20.25 ha
Flame: 6.75 ha
Autuam Royal: 22.2 ha
Curents: 4.5 ha
Sheep: 1 200
NETTING:
104 ha
PACK-HOUSE ON THE FARM:
Yes
EXPORT MARKETS:
FE, EU, ME, UK
ACCREDITATIONS:
GlobalGAP, Siza, HACCP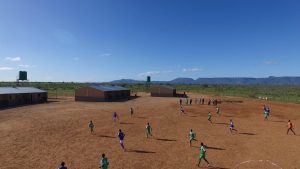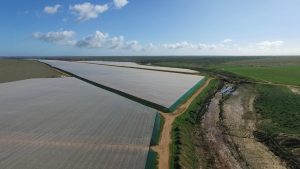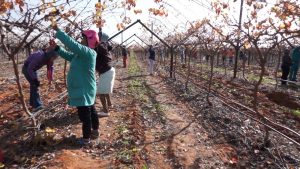 Nico Schade began working at Nuwepos when he was 24 years old, growing the farm to the success it enjoys today. Nico believes that his success arises from treating everyone working on the farm with respect and by working alongside them in the field as much as he can. He sets clear goals to be achieved as motivation and he believes that hard work and commitment are the ingredients of a "recipe" for success.
How do you ensure that Nuwepos grows top-quality export fruit?
There is only one way to achieve success and that is through hard work: on the farm and in collaboration with the farmworkers. Over the years I have learned that you will get out what you put in – if you invest in and encourage your employees, you will work together to achieve the targets you set. I believe in having fewer farmworkers and in paying higher wages to ensure a high standard of work and loyalty of staff on the farm. We work as a team to produce the best results and we share in our success.
What is the most critical aspect of table grape farming?
In farming, no single thing is more important than another. My job requires that I pay attention all the time to do the right thing at the right time. A number of variable factors contribute to farming, so being aware of these factors is crucial to success. 
How do you ensure the social upliftment, as well as safety and healthy living conditions of your farmworkers?
All our employees have access to medical support. In addition we are SIZA and GlobalGAP accredited and to achieve that certification one must be on top of all the standards set. Social upliftment is very important to us, so we encourage the farmworkers to participate in social activities such as soccer and netball tournaments on weekends. This builds a sense of belonging and comradeship among our workers. This is enhanced with organised matches against other farm teams and teams from local towns. I believe a happy, well-balanced workforce is a productive workforce, so we balance work and leisure as far as possible. 
How has farming changed over the last five years and what are some of the changes you have implemented?
Years ago farming was certainly very different. In my 18 years as a farmer I have seen firsthand how things have changed – not least due to an increase in mechanisation. Farming has become far more businesslike, demanding a wider range of skills, from farming to accounting and strategy implementation. It has become more scientific and therefore far more efficient.
How does SAFE ensure that Nuwepos remains modernised and keeps up with the latest farming technology?
SAFE makes it possible for Nuwepos to adapt to challenging circumstances through the deployment of up-to-date technology. A good example of this is the way we have used technology to make sure there is no waste – particularly in terms of water usage in times of drought. For example, we have installed a computer-driven irrigation system to assist us in monitoring irrigation more effectively. Irritech is another system that measures the moisture level in the soil to make sure that our all our vineyards get the optimum levels of water to maximise growth and production. Being in the SAFE stable definitely helps us achieve a lot more than we ever could have on our own.
Tell us about a day in the life of Nico Schade?
I cannot start my day without drinking a cup of coffee! Everyday I meet with the production managers to review daily goals and unite everyone in the tasks at hand. This daily meeting is crucial in managing the farm to its optimal potential – always with the goal of delivering top quality fruit.
What ambitions do you have for Nuwepos?
It would be great to expand the farm in terms of planting more vineyards with the vision of eventually packing between 750 000 – 1 million cartons in a year and to continue delivering top quality grapes for the market. I would also like to continue building a cohesive team of farmworkers through improving working conditions and help develop the team spirit. So building a soccer field on the farm is a goal that I would like to achieve to focus on more social activity for our farmworkers.
What is most fulfilling about your job?
To wake up and do something that I love. Farming table grapes is not my job – it's my passion and I will never get tired of it.
Which three qualities does one need to be a successful farmer in South Africa today?
Good financial and management skills
The ability to build a productive working relationship with employees
An ability to adapt to ever changing circumstances in the agriculture industry