In week 47 workers on SAFE farms around the Northern Cape started picking Early Sweet and the first Prime Seedless grapes for packing and export to Europe and the Far East.
"Before picking started, the grapes were typical for this harvest, and we are expecting very good results. Because of the widely varying temperatures, the mid-season cultivars were five to seven days later than initially expected. But so far the harvest is a good one," says Dries van Rooyen, SAFE's general manager of farming operations.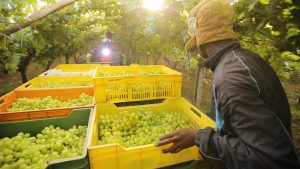 Worldwide there are fewer grapes available, because of an unexpectedly early end to the Italian, Spanish and Greek seasons, and grapes from Brazil and Peru are expected to yield smaller harvests.
This is good news for SAFE, as demand for the exporter's fruit will be greater than usual for this time of year.
"Also at the moment, there is a global shortage of raisins, so we expect to get almost twice the price for our raisin grapes this year as we did previously.
"There is a huge demand at present for table, wine, and other grapes as a result of shortages in other parts of the world. Our harvests are showing every sign of producing large quantities of good quality grapes to meet the overseas demand."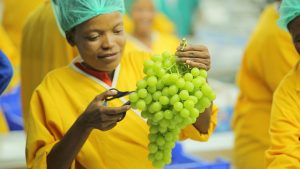 Van Rooyen says this year's crop of the red seedless Ralli is much bigger than previously, because SAFE's new plantings are beginning to bear fruit for the first time.
"We are expecting maximum production for the first time on our new plantings, which is very exciting. Our forward planning is bearing fruit, and with the global grape shortages it couldn't come at a better time."