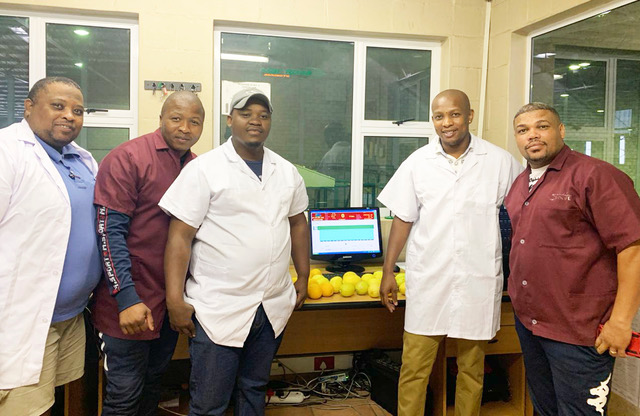 Courage is not a term that you would necessarily use in describing the role of a packhouse manager. But courage is the term that SAFE's Sunland packhouse manager, Shelton Maarman, uses as the attribute that the company "gave" him when they appointed him to the post.
"I was a logistics clerk when I started at SAFE. My first promotion was to manage the line as line manager. It was a big step from there to be appointed as packhouse manager in 2013," says Shelton with pride.
"Being appointed to this very responsible position was my biggest achievement and I am extremely grateful to the company for the opportunities that they have given to me, and continue to give me.
"SAFE has invested in me as a person. But most importantly they gave me the courage to reach my full potential." As part of its staff skills enhancement programme SAFE regularly sends key personnel overseas to learn about fruit production technologies and techniques in other countries.
Shelton was one of a group of SAFE packhouse managers who travelled to Spain as part of this programme recently – to learn about packing internationally.
Shelton, who was born in Port Elizabeth, is married to Joandee. They have three children, Jadelin, Alleche and Kenan. He joined SAFE on a temporary contract in 2007 SAFE. Two years later he became a permanent member of staff.
The Sunland packhouse is 50km from Port Elizabeth, close to the major citrus-producing areas of Addo and Kirkwood in the Eastern Cape. It is SAFE's only packing facility that caters for farms outside the SAFE stable. It is also close to the Port Elizabeth harbour, which facilitates the speedy shipment of fruit to international markets.
In 2017 the packhouse consistently processed an average of 28 000 bins of citrus and 550 000 cartons for export from three farms in the area. This season the packhouse will pack lemons, oranges (Navels, Cara Valencias), and soft citrus (Novas), a portion is which is packed on contract from neighbouring farms not owned by SAFE.
Shelton anticipates the trend to continue in 2020, but packing on a permanent rather than a temporary basis for neighbouring farms.
According to Shelton, managing a profitable packhouse is a constant balancing act between costs and standards – you have to maintain extremely high standards while keeping costs as low as possible.
There has been no need to make any structural changes at the packhouse, says Shelton. "It was designed in an extremely efficient manner so we don't see any need for changes. All we have added is a drench system to drench all incoming fruit. We have also moved away from bulk trailers."
An important employer of locals, the packhouse gives work to 180 seasonal workers and 10 permanent staff.
Shelton says that his biggest challenge is in maintaining the extremely high standards of quality demanded by SAFE and SAFE clients. "The fact that the market is becoming very strict with regard to quality is a huge challenge – that I am pleased we are able to meet."