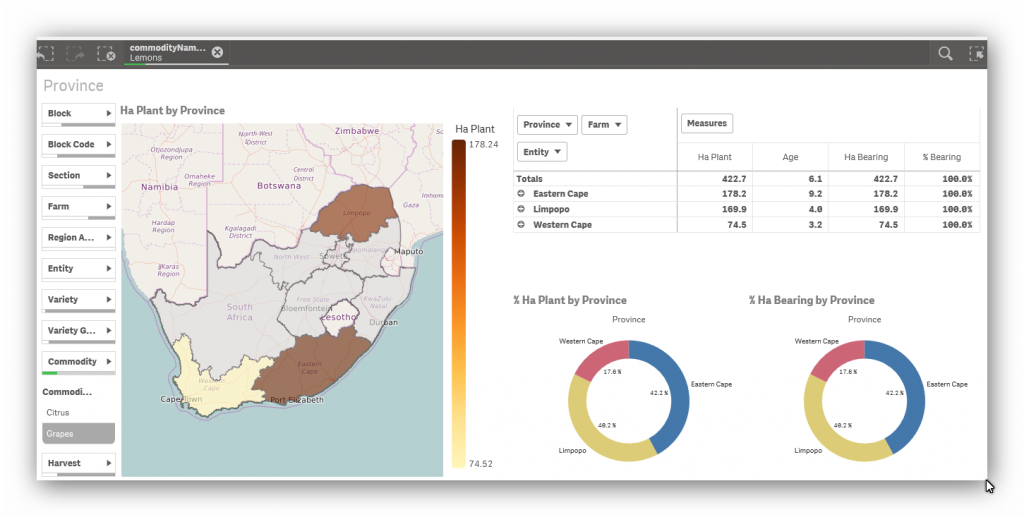 The daily capture and management of agricultural data – especially "live" harvesting figures – of various citrus and grape farms across four South African provinces into one centralised system can be tricky.
That is why the Cape Town-based fruit producer and exporter, SAFE (South African Fruit Exporters), has begun to implement a web-based recording and analysis solution called Agriplan. It promises to not only streamline this process, but to assist the company and its farm managers improve the accuracy and timeliness of information.
"We farm across most of the key table grape and citrus producing areas in South Africa. This geographic spread allows us to provide a full season of fruit to our clients, but it also requires the need for quick, accurate and centralised information.
We identified "cloud" resources as a key strategy in meeting our information needs. Agriplan gives us the benefit of a web-based resource that has the ability to cater for offline functionality when connectivity is limited", says Quentin Scott, chief finance officer at SAFE.
Developed by Juan Vorster from ejDATA and making use of the Qlik Sense reporting and analysis tool, the Agriplan solution is being implemented across the SAFE group. This application covers approximately 1 300 hectares of citrus trees and about 700 hectares of table grape vineyards.
Eugene van Vuuren, co-owner of ejDATA, explains: "The first step is for farmers to define their farms. Before the season starts, they capture data such as the amount of hectares, vines and orchards, blocks and which varieties they are planning to harvest, via a website. This data includes their expected pack-out percentages, tonnes per hectare and their production goals for the year."
Farmers can obtain reports of this essential information, including graphs and aerial visuals of their farms via Qlik Sense.
Once the harvesting season starts, farmers enter "live" data, for example their daily harvesting information, including tonnage, via tablets on their farms. All data is captured and recorded in a single centralised, safe and transparent repository to which head office has access.
"Before you think of packing, shipping or exporting produce, we need to know – on farm level – what do we have, what are we working with, and how much are we harvesting," says Van Vuuren.
Aimed predominantly at the farmer or farm manager, Agriplan reduces the workload as it eliminates the need for different individuals to fill in spreadsheets at various points and times of the harvesting process – which could be cumbersome and time-consuming – and for these spreadsheets to be transferred to head office.
"It's literally data capturing made easy. Agriplan improves general overall recordkeeping, as well as farm-level management and planning in an effective reporting and analysis tool," concludes Van Vuuren.
The SAFE farms are the first ones in South Africa to use this web- and tablet-based solution, while approximately 1 400 hectares of apple and pear farms in Argentina's Neuquén province will see the implementation of Agriplan in October this year.