PRESS RELEASE
Wednesday, 13 July 2016
SAFE Nuwepos soccer team geared up to leave opponents in the dust
The Nuwepos farmworker soccer team from Vanrhynsdorp has done their homework and is ready to romp to victory at the Matzikama Agricultural Community Development Sports Day on Saturday, 16 July 2016.
The team, that has been running rings around the district's other farmworker teams since its start a year ago, will take on six other teams at the Spuitdrift Bellevue Soccer Field near Klawer, where the day's soccer and netball play-offs, semi-finals and finals will be held.
Nuwepos, table grape and sheep farm owned by SAFE (South African Fruit Exporters), has two farmworker soccer teams and a netball team. According to Nico Schade, manager of Nuwepos, soccer and netball play an important role in the farmworkers' upliftment, and contribute to their personal development and wellbeing.
It has been planned that a new grass soccer field with seating be built on Nuwepos so that the farm can host local tournaments and can accommodate spectators. Justus Kooper, Nuwepos midfielder and foreman on the farm, serves on an interim committee that is spearheading the foundation of a rural soccer union for the area.
This weekend the Nuwepos team will face: Heroes FC from Nooitgedacht; Namaqua Lions from Spruitdrift FC; Qwa Qwa Stars from Kleinrivier; Black Jack United from Karoovlakte; Mellowood United from Naasdrift; and Laborare from Trawal. These farms are located in the area covering Vanrhynsdorp, Koekenaap, parts of Vredendal, Klawer and Lutsville.
Matzikama Agricultural Community Development is an NGO that was started to identify and promote talent among farmworkers, and to expose them to opportunities. In addition to soccer and netball teams, it also wants to develop rugby sevens teams. The Matzikama Agricultural Community Development soccer, netball and rugby sevens championships will be held in October.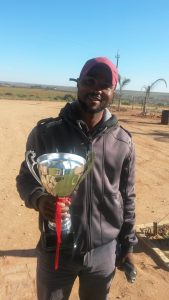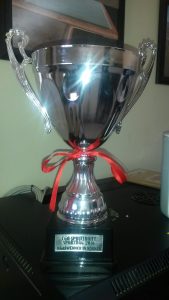 PROUD: Thapelo Justice Kooper delighted with the SAFE football team trophy
Issued by HWB Communications on behalf of SAFE
For more information please contact:
Evelyn Holtzhausen               +27 21 421 0430         +27 82 658 6007            evelyn@hwb.co.za
Editors' Note:
About SAFE (South African Fruit Exporters)
SAFE (South African Fruit Exporters) is a Cape Town-based exporting company directly involved in citrus and grape production in the Western, Eastern and Northern Cape, as well as Limpopo. It farms, harvests, packs and exports its own product, tailored to clients and overseas markets' specifications.
SAFE directly accesses and consistently delivers to markets such as Europe, the United Kingdom, Russia and the Far East, through a seamless, efficient value chain. It adheres to local and global health, safety and employment benchmarks, and ensures that its farms are managed in an environmentally sustainable way. SAFE is passionate about farming, serious about business and committed to contributing to the economic wellbeing of farming communities.