With most of SAFE citrus packed and dispatched farmers are confident that buyers will be more than satisfied with this seasons' crop.
"So far it has been a good year for us with citrus however we still have the bulk of the crop to come," said Wibo van den Ende, SAFE Marketing and Sales Director for Europe. "This is good news in light of the fact that the grape crop was not as good as it could have been due to drought."
As  with the grape deliveries, Wibo will again be based in Europe – this time initially at Dusseldorf on the Rhine- to receive the fruit and meet buyers as it arrives.
"My presence as the fruit is landed was appreciated by our buyers, as going the extra mile to deliver an excellent service," said Wibo. "It makes good business sense to continue with that strategy."
According to Wibo, SAFE's FairTrade accreditation is a major factor in securing successful sales in Europe. "There is no doubt that buyers take real note of all our certification –  but FairTrade is the major one that helps drive sales" , he said
South African citrus comprises a major agricultural sector contributing in excess of R3 billion to the South African economy annually. In 2015, South Africa exported 1.77 million metric tons of citrus.
This season's bumper citrus crop is particularly welcome for SAFE following, adverse weather in 2016 when extreme heat and drought after the lowest rainfall recorded since 1904  drastically reduced the citrus crop[QS1] [QS2]
In an interview SAFE's Marble Hall farm managerFrans Vorsatz said there had been a first class harvest this season – water had been plentiful and there had been no hail, "whereas last year hail caused a lot of damage," he said.
He added, "This has been a very good season and our marketing department can let our overseas clients know they can expect top quality produce this year."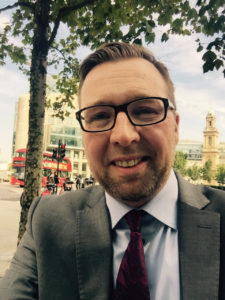 SALES: Marketing and Sales Director for Europe, Wibo van den Ende SAFE