"What an awesome place to work, people are so friendly, kind and helpful and I have learned so much."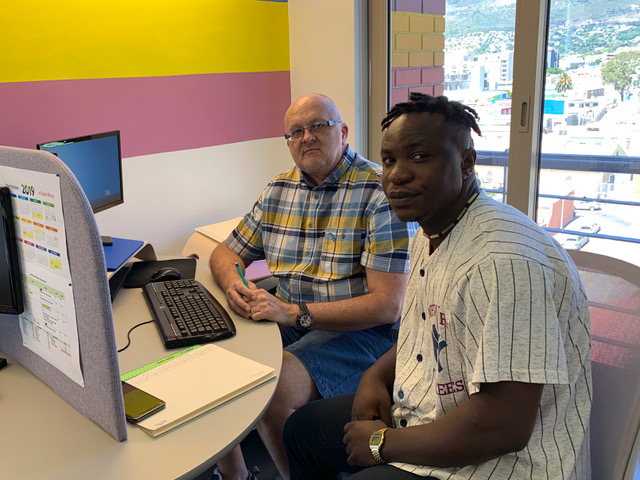 This is what Elijah Mutshipayi, said about his December festive season job helping with filing and other office administration tasks at SAFE headquarters in Green Point.
Elijah, who was born in Zambia came to South Africa with his mother as an "economic refugee." He was found a child in need of care and protection in 2011 and placed at the Cape Town Multi Service Centre (CTMSC), Child and Youth Care Centre (CYCC).
The centre, in Salt River, was established in September 2004 to provide a home for street children under the auspices of Cape Town City Mission.  Elijah wrote matric last year – but will have to write three supplementary exams later this year to quality.
"My ambition is to study Business Science at University and eventually start and run my own business. Working at SAFE has been really great. It is the first time that I have been in an office environment and seen how things work.  I studied Business Science at school and really enjoyed it. I am now more certain than ever that I want to start and run my own business one day", said Elijah.
Rian du Toit, HR Manager of Human Resources at SAFE, who made it possible for Elijah to work at SAFE, said he was happy to provide the opportunity for Elijah. Rian is currently in the process of running a very successful training programme to promote ambitious SAFE farm workers to management posts.
"Learning is the one key that can open so many doors," said Rian. "I was only too happy to be able to assist Elijah and I am very pleased that he enjoyed his time at SAFE."
Dawie Marais, the resident Social Worker at the CTMSC, praised SAFE for being willing to assist Elijah.  "Providing opportunities such as the one SAFE offered to Elijah can be life-changing for these children. We welcome with open arms anyone who offers to help us help them get a hand up in life. We are extremely grateful to SAFE for what they have done for Elijah."
"We loved having Elijah here," said Abigail Newman, SAFE receptionist. "It was a pleasure to show him the ropes – he has such a positive attitude, nothing was too much for him."
With the taste of his possible future in business fresh in his mouth, all Elijah could say was; " Thanks very much SAFE, now all I want to do now is qualify so I can start my own business."