Catering for an ever-mounting overseas market demand for citrus and taking full advantage of the production and environmental benefits that shade netting offers, Cape Town-based producer and exporter, SAFE (South African Fruit Exporters) has started to roll out a 185-hectare new citrus project in Wellington, Western Cape.
The project, involving two of SAFE's traditional table grape farms, Zwartfontein and Bonathaba, has already seen 20 hectares of new net-covered lemon orchards being added to Bonathaba in October 2016. The largest part of the development is taking place in three phases on Zwartfontein.
Says Stephan Viljoen, Manager, Zwartfontein: "We planted our first 55 hectares of lemons in March, and are now setting up netting poles to cover these young trees. This process should be finalised by September this year."
The second phase, 30 hectares of Midknight oranges, will be planted by March next year, while the scheduled completion date for the third phase – comprising 80 hectares of navels, mandarins and clementines – is December 2018. Forty of these 80 hectares will be covered with nets.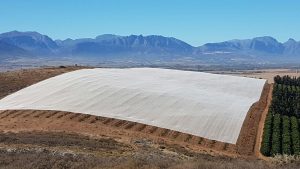 Diversifying its crops, this project will strengthen SAFE's total capacity to deliver citrus throughout the year and will see Zwartfontein and Bonathaba make clever use of their existing labour and equipment.
André Botha, Senior Agriculturalist, UFF African Agri Investments (from which SAFE rents farm land and infrastructure) remarks: "Diversification assists us in spreading our overall risk. Each farm has a unique climatological character, enabling it to produce a fruit variety optimally at a certain time. The two Wellington farms already deliver table grapes in a particular timeslot, leaving them with ample time to produce citrus at other times of the year. And, a mixture of grapes and citrus, a long-term winter crop, is always advantageous."
According to Dries van Rooyen, General Manager of Farming Operations, SAFE, the Western Cape is perfectly positioned to deliver citrus for overseas markets. "The province is black spot free, which is incredibly important for the European markets. We also don't have citrus greening here, a disease the USA import market is particularly sensitive for."
To ensure a better quality fruit and pack-outs as well as higher yields, SAFE is covering most of the two farms' high-value varieties (lemons and mandarins) with nets. Says Viljoen: "We're setting up the nets at a height of 6m above the orchard floor, while the trees will be pruned to grow no taller than 3m." Zwartfontein has elected a white shade net that holds back 30% of the sun's ultraviolet radiation.
According to the SA Fruit Journal, the use of shade nets is rapidly expanding in South Africa's various citrus production areas. The publication reports that shade netting "could provide significant solutions to fruit quality-related problems, as well as increase producer competitiveness in future potentially-saturated markets. Shade nets could enable citrus production in areas traditionally considered unsuitable for production of citrus, as well as buffer against negative impacts of climate change."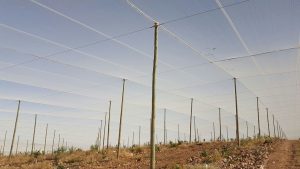 Van Rooyen cites less exposure to wind – a huge problem in the Wellington area – as one of the main reasons why SAFE is employing this technology at Bonathaba and Zwartfontein.
In addition, the netting is expected to protect the crops more effectively against extreme temperatures and climatic stress, wind blemishes and other cosmetic damage caused by hail and sunburn, damage caused by birds, as well as insects, pests and diseases. Netting assists farmers in reducing water usage and crop wastage by noteworthy percentages. It also often delivers fruit of a larger and more uniform size, and of a more intense colour.
Botha says: "The reduced wind speed under nets makes pest control more effective, allowing sprays to mix better with the air and make proper contact with the leaves. The micro climate that's created underneath the nets gives us improved control over insects. However, we'll have to watch out for fungi, which tend to be prolific under nets."
Speaking on the project's longevity, Botha estimates a lifespan of about 30 years for the citrus trees and netting poles, while the nets would have to be replaced after 10 to 15 years. "Netting might not be cheap, but the improved pack-outs it guarantees, assists us in paying it off in five years' time," he concludes.