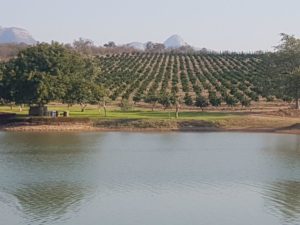 Skilderkrans farm in Limpopo has magnificent views of the Drakensberg mountain range, hence the poetic name.
The farm is near Hoedspruit, close to the border of Mpumalanga, and has a varied history – previous harvests were cotton, followed by tobacco, and it was even a horse stud before the citrus orchards were planted around 25 years ago.
In the 1940s, the farm was the first prize in a national lottery. In 1942 the farmer sought to improve the farm and conditions for workers so he built a number of labourers' houses, some of which are still standing, says assistant farm manager, Jaco Visser.
"There are old photos of lions lying under a tree on the farm – and that tree is still here. The farm has two managers' houses in addition to the houses for the farm workers.
"There have obviously been a number of changes since SAFE took over about five years ago.
"Accommodation for our employees for instance, is top notch – probably the best in the region. Each house has a kitchen, a living room, bedrooms and a bathroom."
High-tech innovations include probes for monitoring water and chemical usage in the orchards, which can be manage by smartphone anywhere in the world.
"I can see in an instant what is needed in every section of the orchard and give instructions to the foreman to remedy any problems," says Jaco.
"In recent weeks, we started a programme in partnership with Lowveld Agrichem to monitor mealy bug and other pests. They hang out bait stations all over the farm and provide weekly data updates that we use to plan spraying programmes.
"In the past, spraying for pests was largely a hit and miss affair – you could usually tell there were problems, but you couldn't see exactly where and how much to spray.
"As with any other farming concern, Skilderkrans has to spray some chemicals at regular intervals according to government regulations, one example being for citrus black spot, otherwise you are not able to export."
The spraying is carefully monitored to comply with the European Commission's Maximum Residue LevelTest. (MLT).  MLTs establish the highest level of a pesticide residue that is legally tolerated in or on food when pesticides are applied in terms of Good Agricultural Practice.
All SAFE fruit undergoes the MLT test on land before being dispatched to European markets.
Other improvements made by SAFE at Skilderkrans include the planting of about 50ha of new lemons, which will be coming in for the first time in 2019.
"We now also have 27ha of Valencia lates, and will be picking the Gusicora oranges for the first time in 2019.
"All available space has now been planted, so next year we will have our first 100% harvest – it will be the first season that we will be picking all over the farm.
All the trees are big enough to bear fruit for the first time, and we are in preparation for picking in February 2019."
Jaco says Hoedspruit is also a good area for grapes.
"One of the earliest annual grape harvests in South Africa is from one of the local farms, so it might be a possible future crop for Skilderkrans, if SAFE makes a strategic decision to expand the operation.
"Farming is a sophisticated business, and the old-fashioned thumb suck methods will leave you far behind. SAFE's businesslike approach and new high-tech systems will ensure that Skilderkrans remains profitable for many years to come."
ends