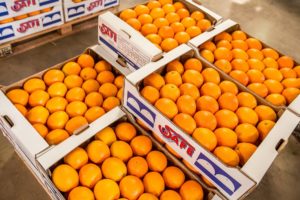 Successful food producers  and exporters have to stay alert to keep up with new trends in food – or face a downturn in sales.
This is the experience of Wibo van den Ende, SAFE Marketing and Sales Director for Europe who says keeping pace with the ever changing demands of buyers requires producers to be constantly alert to new trends in taste, presentation and most importantly in the in "health" of the fruit on sale.
Key in terms of acceptable fruit "health" according Wibo is the European Commission's Maximum Residue LevelTest. (MLT)
MRLs establish the the highest level of a pesticide residue that is legally tolerated in or on food when pesticides are applied in terms of Good Agricultural Practice (GAP)
"These must be safe for consumers and have, of course, be as low as possible." said Wibo. "Our fruit is tested on landing in ports such as Rotterdam – before it is dispatched to consumers."
According to Wibo consumers are also becoming more  and more demanding of quality, taste and the look of the landed fruit.
"And they are extremely sensitive about the social and ethical conditions under which the produce is farmed, harvested and packed."
As   result, SAFE has paid close attention to industry certification of which FairTrade is key in terms of social and ethical compliance.  
Other essential certification includes GLOBALG.A.P. i an internationally recognized set of farm standards dedicated to Good Agricultural Practices (GAP), 
SIZA, the Sustainability Initiative of South Africa that provides a platform for agricultural stakeholders to ensure ethical and environmentally sustainable trade .
FairTradehas a stated goal of helping producers in developing countries to achive better trading conditions, advocating the payment of higher prices to exporters and lobbying for  improved social and environmental standards. 
Being based in Rotterdam when SAFE produce arrives for dispatch to buyers and consumers gives Wibo insight into the lastest requirmemts of key markets.
"Being there at the "coalface" 'of the market allows me to feed what I heart back to SAFE in South Africa, making sure we are constantly up to date with current trends and able to provide the maket with exactly what they want. This is critically importat as weface more and more competition from so called "emerging" producers in countries such as India, Morocco and Algria.