With farming in his blood, managing three large citrus farms in Limpopo is all in a day's work for Kobus Strydom.
"At the end of the day, the challenge is not only the actual farming but managing costs and standards of compliance. To survive I have had to learn to farm more intensively, to a higher consumer health standard and to deliver maximum production for each of the farms," he says.
"Meeting the strict compliance that is demanded of fruit growers for their fruit to be accepted in international markets is a constant challenge. An example is Global G.A.P. (Good Agricultural Practice) certification without which our fruit would not be accepted in European markets."
Global G.A.P (formerly known as EUREPGAP) was originally created by a group of European supermarket chains. It's a private-sector body that sets voluntary certification standards and procedures for good agricultural practices with the aim of increasing consumer confidence in food safety.
The focus of the certification is on food but it also includes requirements on worker safety, health, welfare and conservation of the environment.
Controlling pests is another hurdle farmers have to leap. "The international buyers of our crop allow us to use only a minimum volume of chemical sprays on the fruit because of the maximum residue limits (MRL) with which we have to comply. So we have to find other means to control pests – which is always a challenge," says Kobus.
But, in spite of all the demands of farming, Kobus says he, "loves his life and would not want to do anything else. "I grew up on our family farm, Lankgewag at Tshipise 30 km from Musina, in Limpopo, where I still farm. After my schooling, I spent 14 years on local farms and in 2000 I bought our family farm and started farming here full time.
"In 2015 the government bought the farm from me as a result of a land claim but I am still here. The only difference is that I now rent the farm from the government. "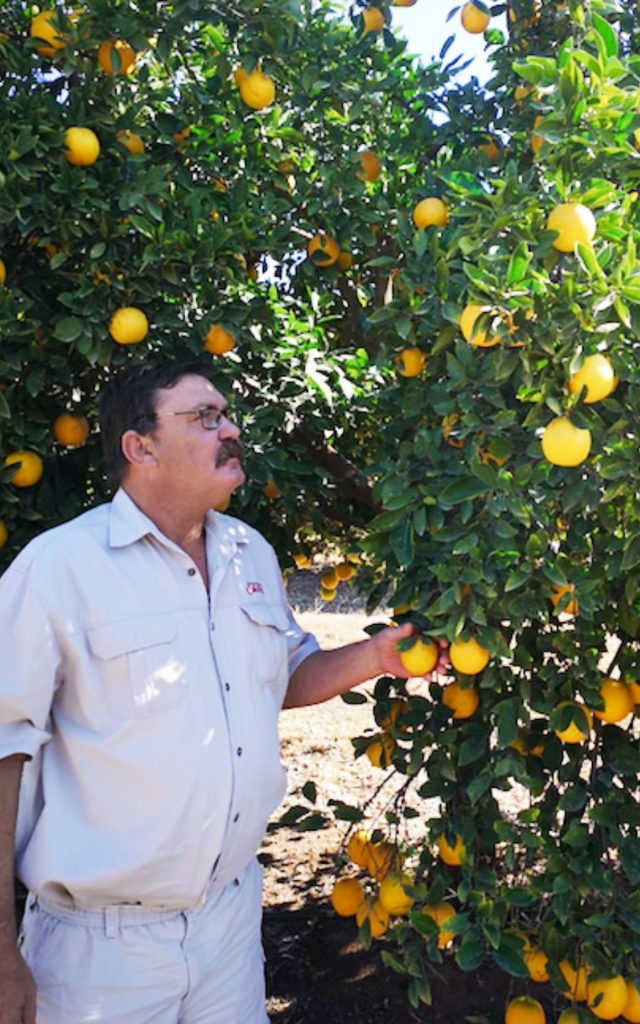 FORTUNATE: SAFE Farm Manager, Kobus Strydom, says he is fortunate to work with an enthusiastic and dedicated team of farmworkers
Kobus and his wife Louise, who got married 25 years ago, have two sons, Coenie who is 22 years old, and 18-year-old Bian, who matriculated last year and who would also like to farm.
Kobus joined SAFE in 2012 to manage their 55.03 ha citrus farms, Kromdraai and Joan-Solitude which has 36.65ha under citrus. The citrus is packed at a SAFE packhouse on the neighbouring SAFE farm "Hope" and is usually shipped internationally via Durban.
The SAFE farms produce Valencia Oranges, lemons and Star Ruby (grapefruit).
There is a total of 91,6-hectares of the SAFE farms under citrus. Kobus overseas 52 permanent SAFE farmworkers who help him to farm their farms and another 35 of his own employees who work for him at Lankgewag, which has 69 ha under citrus.
"I am extremely fortunate to work with a great team of people who make my job so much easier. And I am fortunate to be healthy and working close to nature with the blessing of God almighty.
Kobus and his team are currently harvesting a promising crop of Turkey Valencia. The other cultivars such as Delta Seedless produced a disappointing crop," says Kobus. "Due to high temperatures last year during flowering which caused many fruits to wean.
"But then", he adds "one of the most challenging aspects of farming anything, especially citrus, is coping with global warming, particularly in our area where the temperature is already high and where there is a water shortage."
If he won one million rand in the national lottery, I asked Kobus, "What would you do with the money?"
Ever practical as is fitting of a seriously-minded farmer, Kobus would not go on a spending splurge, he says. "I would invest it for a better retirement for me and Louise".