A better understanding of the extent and numerous facets of the agricultural and export industry, a broader outlook, and a clearer sense of their own roles as farm foremen, team leaders and supervisors. These are some of the outcomes of a recent Western Cape industry tour undertaken by a group of Northern Cape SAFE (South African Fruit Exporters) junior and middle farm management.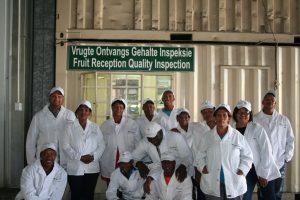 Representing the Cape Town-based producer and exporter's Northern Cape table grape farms, Nuweland, Onderstepoort and Oranjestroom, the 13-member group visited various factories and projects, as well as Cape Town's harbour and legendary fresh produce market in Epping from 13 to 15 March this year.
Dries van Rooyen, General Manager of Farming Operations, SAFE, says: "This is the first in a range of industry tours we're planning for our junior and middle management, as well as other workers showing potential. The aim is for them to develop an improved understanding of the fresh fruit supply chain and logistics involved. While they gain more knowledge, get to see the bigger picture and grow in their own individual careers, their co-workers and farms also benefit as the group share their learnings when they return ho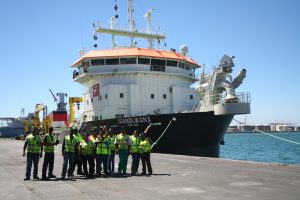 me."
The Northern Cape group's first stop was the Mpact paper and plastic packaging business in Epping, where they viewed the manufacturing (according to overseas clients' specifications) and printing of SAFE's packing boxes. At the harbour they could see what exactly happens to a shipment, how packing boxes are loaded onto a ship, gain insight into the inspection process and appreciate why it is crucial for the fresh fruit cold chain not to be interrupted.
During the rest of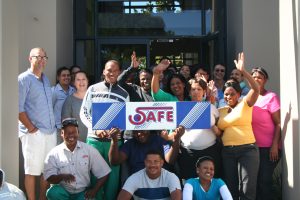 the group's jam-packed three days they visited SAFE's head office, Kenilworth, as well as the Kelpak seaweed extract factory, Simon's Town, which uses a distinctive cold cell-burst process – involving no chemicals, freezing or dehydration – to make liquid extract from the giant kelp, Ecklonia maxima. SAFE's table grape farms employ kelp extract to achieve a larger berry size and improved bunch colour, as well as higher yields. The application of the extract also delivers more vigorous root and shoot growth.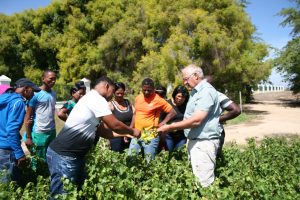 At Voor-Groenberg Nurseries, Wellington, the group observed how vine cuttings are produced. They learnt how to test these properly for diseases such as downy mildew, and how to plant vine cuttings correctly. They also visited a fruit fly project at Stellenbosch where sterile male flies are reared, which are then released in specific areas to mate with wild females. In this way fruit fly numbers are controlled in these areas.
To introduce the Northern Cape group to relating industries such as winemaking, their tour included a visit to the Hartenberg Wine Estate, Stellenbosch, as well as the Stellenpak pack house at Simondium, Paarl, which implements a more mechanised packing system.
Narika Lategan, training facilitator at th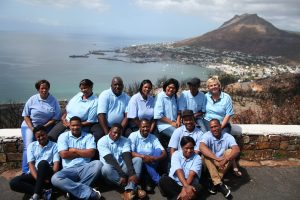 e human resources group Orffer & Van der Merwe who coordinated the industry tour, says it is as if a whole new world opened up for the SAFE group. Not only did they embrace the opportunity to familiarise themselves with the broader industry and to expand their own frames of reference, but they also realised the essential role each of them plays in the successful operation of their farms.
Describing the visit as a "wonderful and unforgettable educational tour", Boitumelo Motsumi (25), pack house organiser at Onderstepoort near Augrabies, says: "For me it was really interesting to see how our packing boxes are cut, laminated and printed, as well as to walk around the huge Cape Town Market. When we returned to Onderstepoort I told my co-workers about what I've learnt."
For many group members, like Motsumi, it was their first visit to the Western Cape, the first time ever that they saw the ocean and Table Mountain, and experienced a boat trip, like the one the group took to Seal Island, Hout Bay. Lategan concludes: "We saw vastly different people getting back onto the bus to the Northern Cape than the ones who arrived in Cape Town a few days earlier. They were beaming!"