NAME:                                                 Frans Vorsatz                                                 
FARM'S NAME:                                  Marblehall
AREA:                                                   Limpopo
PRODUCE/COMMODITY:                Citrus
FARM SIZE:                                         920 hectares, of which 493 hectares are planted
HECTARES BREAKDOWN:               376 ha oranges
                                                              59 ha lemons
                                                              58 ha soft citrus
NETTING:                                            The first 109 ha to be completed by December 2017
PACK-HOUSE ON THE FARM:         Yes     
EXPORT MARKETS:                           Europe, Russia, Middle East & Far East
ACCREDITATIONS:                            SIZA, GLOBAL G.A.P & GRASP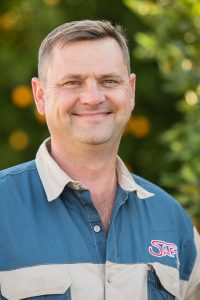 A hands-on farm manager who believes a farmer's footprints should still be found on the land, Frans Vorsatz follows an open-door policy when it comes to his farmworkers. For the last five years he has been managing SAFE's Marblehall farm, situated near the Limpopo town with the twin name. Marblehall is the Cape Town-based citrus and table grape producer-exporter's largest farm by far and the latest addition to its group of farms in South Africa.
Tell us about a day in the life of Frans Vorsatz?
I believe farming, in essence, remains farming. You still have to walk among the orchards yourself, spend time with your farmworker teams as they prune and pick, and work with them. That's the right way to do it.
How has farming changed over the last five years and what are some of the changes you have implemented?
With 16 years' experience in citrus farming, I have witnessed agriculture change over the years, mostly due to rapidly-evolving technology. The latest new development at Marblehall is the covering of 109 hectares of orchards with netting, with 70 more hectares planned for 2018. This area is prone to hail and in a few minutes an entire year's hard work and meticulous orchard preparation could disappear in front of your eyes. With netting, we'll sleep better as it ensures top-quality, blemish-free fruit.
How do you ensure the social upliftment, as well as safety and healthy living conditions of your farmworkers?
I always tell my workers th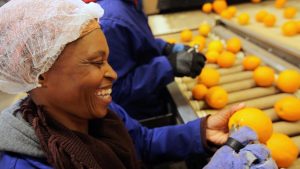 at they are welcome to discuss any issues with me. I think it helps that I understand a bit of Sotho and Pedi. It is very important to cultivate mutual respect and trust, and I believe that content farmworkers equal successful farming. If your workers are happy, you can farm with ease. If they're not, you can just as well close your farm gates – that's for sure! We also provide our farmworkers and their children with primary healthcare services, rendered by a permanent clinic on the farm, while the majority of workers stay in fully-serviced, secure housing on the farm.
What is the most critical part of citrus farming?
It starts the day you plant that citrus tree. You have to do a good job. If the wind blows from one direction and the tree starts growing skew, you have to come to its rescue. It's just like bringing up a child. Nurture it, give it what it needs, keep it free from pests and spray it regularly.
How do you ensure that Marblehall grows top-quality export fruit?
Implementing globally-prescribed pest and disease prevention spray programmes, as scheduled and on time, is a fundamental step in the guaranteed and consistent production of export-quality citrus. If your spray programmes aren't executed 100%, don't think you'll be able to export. This is also how we counter black spot which is a regular phenomenon in this part of Limpopo.
How does SAFE ensure that Marblehall remains modernised and keeps up with the latest farming technology?
I enjoy working with SAFE mostly because of the support in terms of acquiring new equipment, and improving infrastructure and systems on the farm. When you ask, they're there for you and they make a plan. We'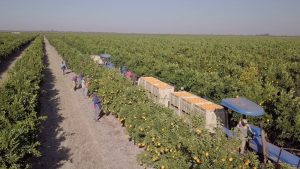 ve been collaborating on quite a few developments, such as a new irrigation system we recently implemented. Marblehall is not looking back. With management like SAFE, our farm can only move ahead.
What ambitions do you have for Marblehall?
My dream for Marblehall is to expand. While our core business remains citrus, we plan to start planting 180 hectares of cash crops – such as watermelons and white beans – later this year. These are mostly harvested at a different time of the year than citrus. The diversification will enable us to capitalise on the farm's infrastructure, land and labour, while putting Marblehall's irrigation pivots to good use.
What is most fulfilling about your job?
We champion external and internal training opportunities for our farmworkers on a regular basis and you'll be surprised to see how people shine when you're willing to walk a road with them. Many people don't have work, and when you can physically see that a man is hungry, then it's a good feeling to be able to give that person work. After a few months you see how their whole life has changed and how they blossom. This we can only do if we expand. We need to grow. We have to move forward.