NAME:                                                  Hilary Weyers                                                           
FARM'S NAME:                                   Skilderkrans
AREA:                                                   Limpopo
PRODUCE/COMMODITY:                Citrus
FARM SIZE:                                         170 hectares, of which 163.5 hectares are planted
HECTARES BREAKDOWN:               56.5 ha oranges (Midknight, Valencia Late, Gusocora)
                                                              100 ha lemons
                                                              7 ha grapefruit (Star Ruby)
NETTING:                                            No
PACK-HOUSE ON THE FARM:         No (packs at Soleil Citrus Pack-house, Hoedspruit)
EXPORT MARKETS:                           European Union, Middle East & Far East
ACCREDITATIONS:                            SIZA & GLOBAL G.A.P.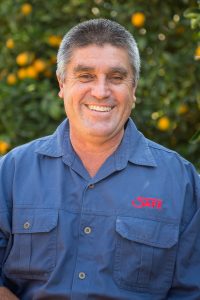 With 26 years' experience in citrus farming, a can-do approach towards farming and life in general, rock-solid faith and a caring attitude towards his staff and farmworkers, Hilary Weyers epitomises the inspiring South African farmer who knows what it takes to run an export citrus farm successfully. He manages Skilderkrans near Hoedspruit, Limpopo – a stone's throw from the Kruger National Park. The farm's 32 ha of new lemon trees have been boosting SAFE's overall citrus volumes.
How do you ensure that Skilderkrans grows top-quality export fruit?
In the first place, you have to determine whether your farm's soil is suitable for citrus. Buy your young trees from a registered nursery so you don't introduce any diseases to your farm, and choose varieties suited to your environment. Look after those young trees and prune them correctly – it's like raising a child. Ensure your orchards are irrigated, sprayed and fertilised accurately and adequately, and remember strict, thorough scouting is essential. Our scouts are our "eyes" in the orchards.
2. What is the most critical part of citrus farming?
Delivering clean, spotless, residue-free fruit! It's also important to apply scheduled spraying against black spot and fruit fly. As the Hoedspruit community we've decided to, once we notice a fruit-fly outbreak, spray the whole area to control it effectively. 
How do you ensure the social upliftment, as well as safety and healthy living conditions of your 55 farmworkers?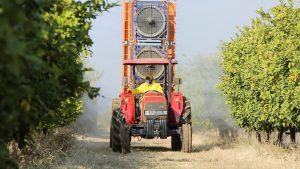 Our assistant manager, Jaco Visser, and I firmly believe our workers should be treated with respect and human dignity. I cannot emphasise this enough: if your workers aren't happy, your farm's not going to make it. On our farm our people are happy and they're proud – we look after them. Besides a comprehensive external training programme presented by Skills For All, we also have a 35-pax training venue at Skilderkrans where we offer internal training – not only to enhance our workers' skills, uplift and empower them, but also to instil pride. Moreover, we offer fully-serviced housing for 20 key personnel on the farm. 
How has farming changed over the last five years and what are some of the changes you have implemented?
Since we arrived here in 2013, we switched over from flood irrigation to micro irrigation, and deforested 60 ha after obtaining the necessary permits from government. If you could only see what Skilderkrans looked like before! We've invested a lot of hard work here. Today the farm is fully developed and we're delivering above-par volumes; we're looking at picking 500 000 cartons in 2020.
How does SAFE ensure that Skilderkrans remains modernised and keeps up with the latest farming technology?
One shouldn't be scared of new technology. When we first started to implement irrigation probes, I was opposed to them and didn't believe they would do the job. That was until I saw how much water they save us: up to 30%! The same goes for the environment-friendlier pest control we apply today. It's new technology; it's easier.
Tell us about a day in the life of Hilary Weyers?
Every Monday a reverend visits Skilderkrans to pray for our farm, workers and harvest, and every morning we open with prayer. We also never ever work on Sundays; that's a rule – even if it means we have to start spraying chemicals at 1:00 on a Monday morning to comply with globally-prescribed spraying conditions. We're strict here, but also very fair. For my workers, my door's always open. I cannot tell how much it helps being able to converse with them in Sotho, a language I learnt growing up on a farm – something I'll forever be grateful for.
What ambitions do you have for Skilderkrans?
I think we've tamed Skilderkrans by now; so, we're looking for more or other challenges, because one shouldn't stagnate. I cannot wait to tackle those new challenges!
What is most fulfilling about your job?
Firstly, I work on a farm with the most beautiful mountains. I don't have labour problems, and when you enter the gates of Skilderkrans, you can sense the peace. Farming is incredibly hard work, but when you've sent your product overseas and receive the feedback, you feel good and know it's been worth the effort. I also enjoy working for SAFE, as they give us freedom and don't box us in. I farm on Skilderkrans as if it's my own farm.
Which three qualities does one need to be a successful farmer in South Africa today?
Be hardworking, be motivated and have your own vision!