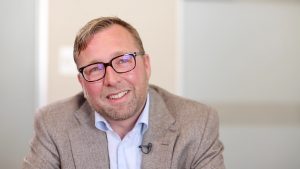 SAFE is increasingly being seen as an exporter upon which markets can rely, says Wibo van den Ende, SAFE's marketing and sales director.
Wibo made the comment after attending the Fruit Logistica trade fair in Berlin earlier this year with SAFE general manager of farming operations, Dries van Rooyen.
Fruit Logistica is a prestigious international event with more than 3 000 exhibitors, and is visited by around 80 000 industry players from from Europe and Asia to the Middle East and the Americas.
"The trade fair offers everything you want to know about the fruit industry – trade, production, logistics, packaging, transport and innovation," says van den Ende.
At Fruit Logistica SAFE shared a stand with Netherlands-based fruit and vegetable importer and distributer, Haluco. and met with several of SAFE's European, Russian, Middle East, American and Canadian clients.
"Over the three days of the fair we met representatives of about 30 different companies with which we do business. These included receivers as well as suppliers of services, packaging and grape varieties. It was an absolute must to be there and meet everyone in a very short time," says van den Ende.
"It's also an excellent base from which to briefly evaluate the grape season. The fair takes place in the middle of the grape deliveries from South Africa, so we were on the spot for arrivals, and it's a big advantage to touch base with all the receivers while deliveries are taking place.
And having Dries on hand to provide in-depth information on production and quality was a big boost."
Van den Ende says there was plenty of positive feedback from European receivers, who are happy with SAFE's general product and services, as well as the co-operation with Haluco, which does part of the distribution and selection of grapes.
"We still supply 70% to 80% of our product directly to a number of supermarket chains. However, small changes in distribution requirements from receivers in Europe, Eastern Europe and Russia can easily be handled through Haluco.
"This season has not been easy, but I think we are sailing through quite well considering the circumstances.
"I've been in Europe for almost three months, overseeing the arrival of grapes from South Africa. Each week I can check the arrivals for quality and quantity, and can assess distribution and make changes if needed.
Client feedback shows that they appreciate having someone on the spot to deal with any issues. It's like chatting to a close neighbour rather than a faraway friend. We are setting up close relationships with our clients, and this will have a positive effect on future trade," says van den Ende.