Running a profitable packhouse is a constant balancing act between costs and standards – you have to maintain extremely high standards while keeping costs as low as possible, according to SAFE's Sunland packhouse manager, Shelton Maarman.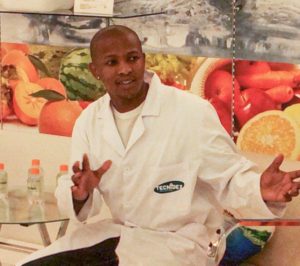 Another important factor is staff wellness, which SAFE takes very seriously, and is not negotiable.
Shelton was employed by SAFE as a logistics clerk in the packhouse after gaining industry experience with a competitor. In keeping with SAFE's policy of promoting from within the ranks, he was soon appointed as shift boss in the packhouse in charge of a team of 210, and was promoted to manager in 2013.
The Sunland packhouse is about 50km from Port Elizabeth, close to the major citrus-producing areas of Addo and Kirkwood in the Eastern Cape. It is SAFE's only packing facility that caters for farms outside the SAFE stable.
In 2017 the packhouse processed more thn 28 000 bins of citrus and 550 000 cartons for export, from three farms in the area.
"Overseas clients are extremely fastidious, so the standards for handling the produce are extremely high," says Shelton.
"My job is to see that the fruit coming from the local farms is packed to the highest standards, and that wastage is kept to a minimum. Soft citrus such as Clementines and Satsumas, in particular, need special care to minimise losses, as the fruit is easily damaged. We also export a lot of lemons, in fact, lemons make up about 60% of our production.
"Challenges include fluctuating market prices, and maintaining standards which are continually being raised. This means you have to set up new protocols every year to meet the higher targets.
"The weather is another constant challenge, and of course, it is out of your control. If your harvest is ripe and ready to pick when the rain comes, you will lose a lot of fruit, which means you lose a lot of money. Ideally, the rains have to come at the right time, and you have to pick the fruit at the right time. If your navels are ready in the first semester, and you suddenly get rain, you could lose half the harvest.
"To be proactive your time reckoning has to be spot on. For instance, you can start picking riper fruit slightly earlier so that if it rains you will minimise the losses. We work closely with the farm managers, and regularly visit the orchards to see what stage the fruit is in, so that we can make effective decisions at fairly short notice.
"If we usually pack a certain block in week 20, for example, we would go into the orchard in week 17 or 18 and see what fruit can be picked early so that if it rains we don't lose too much."
As part of its staff skills enhancement programme SAFE regularly sends key personnel overseas to learn about fruit production technologies and techniques in other countries. A few years ago, Shelton was one of a group of SAFE packhouse managers who travelled to Spain to learn how fruit packing is done over there, and he says it was interesting to see that a lot of the Spanish farmers had replaced their citrus orchards with persimmons.
"Fruit production and export is big business, and to remain competitive it's essential to keep up to date with the latest trends," says Shelton.