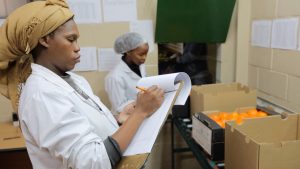 QUALITY:  Certification, quality and providing the fruit the market demands keeps SAFE successful.
African fruit exporters need constantly to be on high alert to maintain their competitive advantages as emerging producers threaten to make inroads into their traditional markets.
This is the experience of SAFE Marketing and Sales Director (Export), Wibo van den Ende who says SAFE is encountering increasing signs that growers, particularly in South America, Algeria, Morocco and India, are making concerted bids for market share in Europe, South Africa's biggest fruit export market.
Wibo constantly monitors SAFE markets to keep his colleagues in South Africa abreast of the latest trends in taste and product presentation as well as developments in food health regulations and certification.
"More than ever, the need to stay on top of developments and provide buyers and consumers exactly what they want, is critical as we face increasing competition from emerging producers," says Wibo. "The stakes are high because fruit is a major contributor to agriculture's contribution to the South African economy."
South Africa exports 59% of the 4.7 million tons of fruit it produces annually, with the European Union taking 31% of production, according to Fruit South Africa. It estimates the fruit industry is worth more than R30 billion a year and generates direct employment for 180 000 people with a further 8 000 people providing services to the industry and 110 000 people employed in downstream enterprises.
As a highly labour intensive sector, the fruit industry has the potential to support as many as 1 million jobs, according to the National Development Plan.
As an example of growing competition, Algeria has increased citrus production in its Blida region by more than 100% since 2000, according to industry information portal Fresh Plaza. This has been accomplished by better training of producers, introduction of advanced equipment, rehabilitation of old groves and extensive planting of new trees.