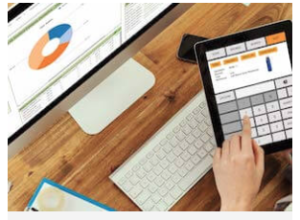 SAFE has onboarded the entire business, from farming to packhouse, dispatch, delivery, export and financial tracking to Openbravo.Openbravo performs warehouse and stock movement unitizing a rules-based integration layer pulling in standard industry format files.
SAFE have successfully tested the technology over the past grape season and has been successfully running the system for its' current citrus production.
Openbravo is a cloud based, off-the-shelf application meticulously setup- by SAFE – for the fresh produce export industry. This means the product remains true to the purchased application with little bespoke customization.  Key SAFE staff  were trained in the software in Argentina early in the onboarding process. Openbravo was developed in Spain and is currently used in businesses in more than 60 counties.  This is the first time that it has been used in this environment in Southern Africa.
"Because Openbravo is modular we have been able to add to the system as we need to", says SAFE CFO, Quentin Scott.  "The components of Openbravo are continually being updated and are based on best practise or best of breed. The export process is based on standard functionality therefore we benefit as the product improves"
Openbravo incorporates financials, stock, warehousing, exports and sales into a single cloud-based environment.  It means that SAFE now has a single ERP system to manage and transact on all levels. Users can process entries into any "cost center" or company without logging in and out of entities.
"Gone are multiple confusing reports from different sources. With Openbravo being web based, via a browser, all movement and processing happens in real time," says Eugene van Vuuren of Qbix Consulting, Cape Town, who has been instrumental in customising Openbravo for SAFE.
The cloud-based environment requires little infrastructure at the office or farm as the solution can be hosted. Hosting provides additional security and protection of data through multiples instances being run.
"The fact that Openbravo is cloud-based makes it so much easier for information to be collated in real time – rather than, as in the past, with each "station" reporting independently in their own time to a central control," says Eugene.
"Due to the fact that our stock is almost live, it aids the marketers in allocating a lot quicker.
"With this in mind, we are also able to plan a lot better with the various shipping lines by sending them forecasts in time," says Chantelle Thompson Logistics Manager, Logistics Operations of SAFE.
"Our shipping instructions are processed automatically once the load depot sends their transmission file for the container/vessel so our process in logistics is a lot faster which allows the invoicing department to invoice clients on the same day that the container loads,
"Due to the fact that Openbravo does not allow any data inflow into the system unless it has been registered on the system, means that we do not have incorrect information flowing through that we need to manually correct later."
"Our initial strategy was to switch to Openbravo to make SAFE more efficient business. I am happy to report that we are now reaping the benefits of this new resource." says Quentin