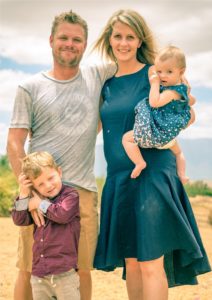 FARMER: : Frankie la Grange with wife Katy, son Ethan, and baby daughter Aidan.
Zwartfontein citrus manager, Frankie la Grange, didn't set out to be a citrus farmer after he left school, but an early love for the industry led him to a position that he regards as the perfect fit.
Frankie hails from Nelspruit, but grew up in Paarl before spending two years in England working for another South African fruit exporter and a brief stint in Scotland putting up fences.  On his return to South Africa, he spent 10 years in the Greater Kruger National Park before returning to citrus farming, following in the footsteps of his father, Hans la Grange, a citrus technical consultant to a number of exporters, including SAFE.
"As a child, I accompanied him on his visits to various citrus farms, and the lifestyle always appealed to me," says Frankie, who lives at Zwartfontein near Wellington, with his English wife Katy, son Ethan (4) and baby daughter Aidan.
"Having a citrus expert in the family is very handy. Whenever he comes to visit us socially, we take a drive around the orchards and his comments are always right on the money."
When Frankie arrived at Zwartfontein two years ago it was a grape farm, and a lot has changed since then.
"We've already planted the first 75ha and are now busy preparing another 90ha for planting to start mid-September. We initially planned our first harvest for 2019, but due to the drought we have decided to put some more body on the trees first.
"At present, we have 55ha of lemons and 20ha of Midknight Valencia. We will now be planting 20ha of Nules, 30ha of Witkrans Navels, 20ha of Orri Mandarins, and another 10ha of Midknights.
"Another 10ha of Witkrans Navels will be planted next year, bringing the total to 165ha of citrus when all the trees are in the ground. There are also 100ha of grapes at Zwartfontein."
Frankie has been responsible for overseeing everything on the citrus side of Zwartfontein, from installing the irrigation system and laying out the blocks, to nursing the trees through the recent drought.
"Being a member of the CGA (Citrus Growers Association) is particularly useful at a farm like Zwartfontein, where we are establishing new citrus orchards for the first time. It certainly helps us keep abreast of all the latest global trends, ensuring we can get a head start on the latest varieties when choosing what to plant."
Coming from a family-run farm to an established export company has been quite a change, but one Frankie has embraced.
"A big advantage in farming for SAFE is that there will always be a market for your fruit, because of the company's good reputation for high standards. As long as you deliver the goods, SAFE allows you free reign to run the farm as you see fit."