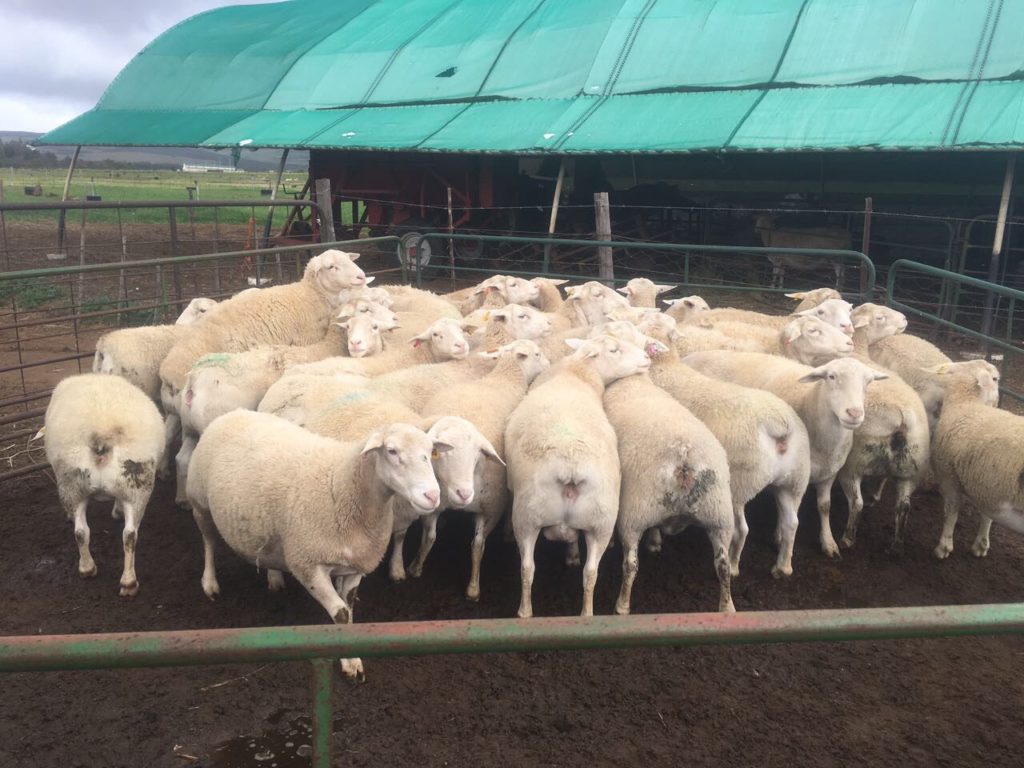 SAFE's decision to venture into sheep farming at Nuwepos, the company's 108 ha farm near Vanrhynsdorp on the Oliphant's River more than a year ago, is showing all the signs of success.
This is attributed in part, says Farm Manager Pieter Krynauw, to the fact that "we bought great quality stock from the beginning".
"Our selections are done at a very high standard with professional help to breed only the best quality standard Dorpers".
SAFE launched the project late in 2017. "It began as a community enterprise development project, in partnership with the farm workers who were already involved with the commercial sheep farming operation at Nuwepos," according to Dries van Rooyen, SAFE's General Manager of farming operations.
At the start of the project, SAFE acquired 70 Dorper ewes and two rams and established the infrastructure necessary –  including lambing pens.
A worrying factor at the time was the drought – but confident of rain the project went ahead.
"We did experience some relief in July this year with limited rain, but unfortunately we are still in a drought situation and need a very good winter to recover in full," says Pieter.
"We are not doing supplementary feeding yet but we may have to resort to it later in this summer if no rains fall. However, we do also have plans to start with 108 ha of irrigation that will help us to grow the grazing we need."
According to Pieter, the aim is to create a strong gene pool. "This should take three to four years, by which time we expect the venture to be turning a profit.
"We currently have 80 stud ewes and 780 livestock ewes. That is a total of 860 ewes on the farm. Because of the drought we only had about 380 lambs this year. We will keep all good quality ewe lambs to rebuild our numbers."
According to Pieter they have enough stud ewes at the moment but will select more from their own lambs to contribute to growth. "We have also bought new stud rams to keep our bloodline open and prevent inbreeding."
"Depending on good winter rains and the expansion of our irrigated grazing, we will grow to 100 stud ewes and 850 livestock ewes in the next three years."
Sales have been good with 161 lambs sold to the meat market this year. Pieter has also selected the first stud rams that will be sold on auction next year when they are about 18 months old.
"We are happy that we are beginning to become self-sufficient – breeding our own rams. This means that we will need to buy fewer in the years to come.
According to Dries, stud farming takes time. "At the moment we are following a very strict selection process in order to offer a very high quality of Dorper to the market and to promote Nuwepos as a reputable stud farm".
Aware of their commitment to the local community, a number of Nuwepos farm workers have been attending courses on Dorper farming.
"Although they are familiar with commercial sheep farming, stud farming is much more intensive and there is a lot to learn to achieve a level of success.
"We remain confident of achieving our aim," says Dries, "to achieve one of the main objectives of the Dorper stud project at Nuwepos – which is to encourage and promote community enterprise development.