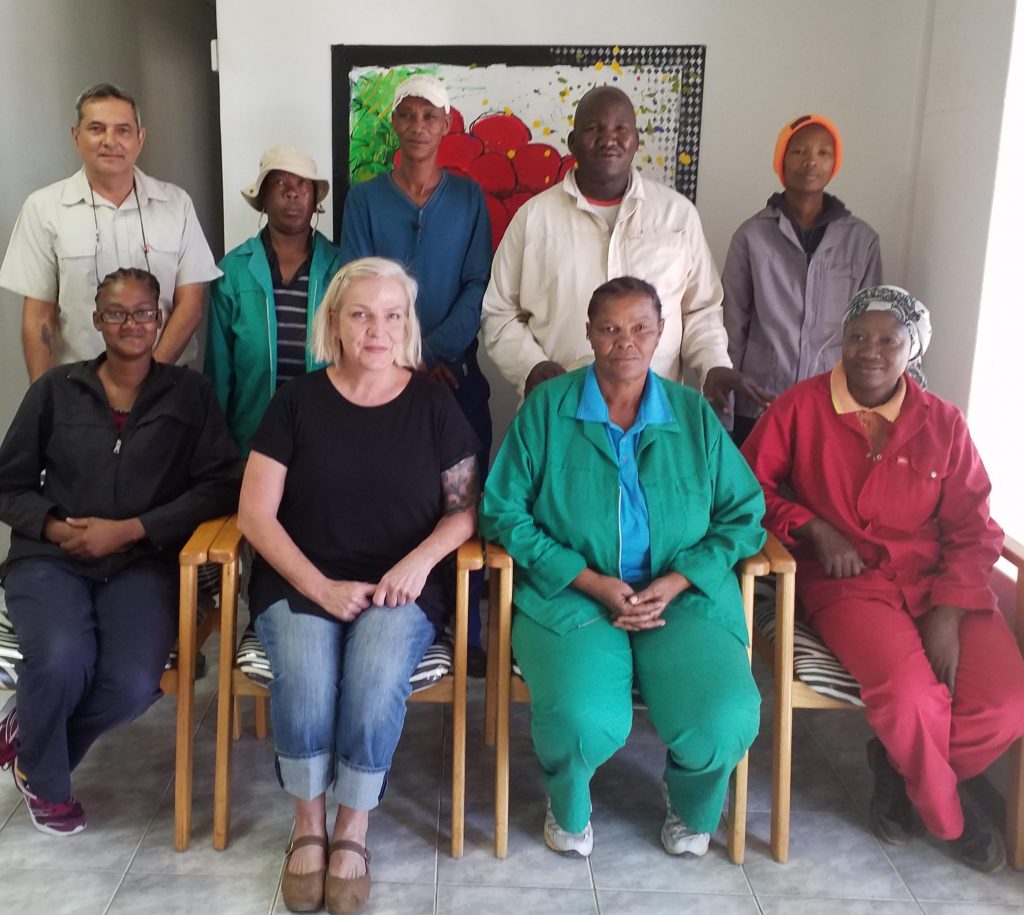 Farming table grapes in the arid Northern Cape is hard work. And to succeed year after year in producing export quality grapes on the level that farm manager Tiaan Visser does, requires more than farming skills; it requires the support of a dedicated senior management team striving to achieve the best results.
And this is precisely where Tiaan has excelled – his top managers comprising foreman Johannes Swart, who began working for him in 1992, and his Tswana foreman, Piet Ngadi, who began work on the farm in 1997 – comprise a formidable team that delivers great results for the farm year-after-year.
Tiaan manages Nuweland, SAFE's 100 ha farm in Augrabies in the Northern Cape. The farm – which boasts its own packhouse – is Fairtrade, SIZA BRC and GlobalGAP accredited, with their table grapes being sold to markets in the EU, UK middle and far East.
"We would never have been able to consistently produce the results that we do year-after-year without the support of a team of workers who are happy with their work, respected for their skills and fairly rewarded for the labour," says Tiaan.
But having a progressive management style is not, as the saying goes, a bed of roses. The farm operates under strict labour relations guidelines and if anyone steps over the mark, swift discipline follows.
In terms of our Fairtrade accreditation, we make sure that everyone that we employ knows exactly what is expected of them and when people know the guidelines, it is easier for them to comply.
And this is where the tattoo of the big thorn tree on the inside of his right arm plays its part reminding Tiaan that he is like a tree that provides shade from the searing sun for his "family" of farmworkers." The tattoo is to remind me, when I may be a little more than demanding, to calm down."
"The biggest part of my job," says Tiaan, "is encouraging employees to contribute their best. Surprisingly there is little time spent on the actual grapes. During harvest we employ from 380 to 480 workers, so most of my day consists of managing employees to deliver their best.
"Nuweland voorman (Afrikaans for foreman), Johannes Swart, and I have been working together on this farm since 1992. We both joined Safe in 2009, giving us a 28-year professional relationship. My Tswana voorman, Piet Ngadi, started working with me in 1997 and also joined Safe in 2009," says Tiaan.
Mung Yster, a senior supervisor, started with Tiaan in 1992 as a scholar working during her school holidays. She was employed on the farm by SAFE in 2009. Mungs' daughter, Nazli, is also an employee and has been as elected chairperson of Nuweland's Workers Committee. Elzaan, Mung's niece, is working in the farm office as an administrative assistant. The third generation of the family, Jerry and Vlooi, is attending our day-care centre.
Other long term members of staff include Benjamin Thlobolo, a senior supervisor who has been employed at Nuweland since 1997 and also employed by SAFE from 2009. "Finally there is Siena Pressley, a senior supervisor, who joined us in 2000."
"It is in these longstanding and loyal employees that I find my strength. Without them my days will be a lot more demanding," says Tiaan. He also attributes his success to the support of his wife, Esmelinda, who is in charge of Admin and Accreditations and who says Tiaan is a "big part of management."
The couple has three adult children; Ferdi, a winemaker, Daniela, a graphic fashion designer and Christiaan, who is a chef and father to two sons.
According to Tiaan, the best part of his job is seeing the results of all the effort and hard work that goes into farming. "When people who are well-housed and well-fed have happy faces as they tend to the vineyards, then I am happy as well!"