Managing to pretty much sidestep the effects of South Africa's severe drought, which it anticipates will cause only minor table grape harvest losses this year, Cape Town-based producer and exporter SAFE (South African Fruit Exporters) is set to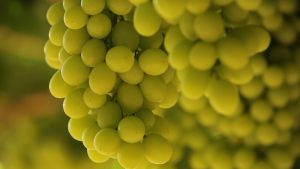 not only achieve its 2017 production target, but also expects to exceed last year's harvesting figures by 30%.
This is despite the effects of two major climatic conditions: the epic drought that still has much of SA firmly in its grip and consequential low water levels; and high summer temperatures, resulting in a smaller berry size than in the past.
Dries van Rooyen, General Manager of Farming Operations, SAFE, says: "Due to these conditions we've witnessed a see-sawing quality curve. After kicking off with 'good'-quality arrivals (as scored by our overseas markets), we noticed that the harvest's quality switched to 'average', and then back to 'good' again – this fluctuation carried on throughout the season.
"That said, SAFE did manage to bring in a solid harvest. Especially the Western Cape's later varieties exceeded our pre-season expectations and delivered a superb performance. Overall, the later varieties outshone the earlier ones."
With 95% of its harvest already packed, shipped or delivered to export markets, SAFE is currently wrapping up its 2017 picking and packing activities. At Wellington in the Western Cape, the last Sugraone, Barlinka, Crim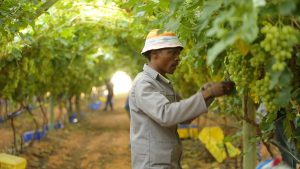 son, Red Globe and Dauphine are making their way to the pack house.
While recent heavy downpours in the Orange River area didn't upset SAFE's crops as its Northern Cape farms had already completed their harvesting at the time, the producer-exporter will likely face harvest losses of 2% to 3% in the Western Cape's Berg River area. Here the drought has necessitated water restrictions (water only two-and-a-half days per week) over the last month.
"Fortunately we're concluding our harvesting here within the next few days, and now only irrigate fruit-bearing vineyards," says Van Rooyen.
Owing to this year's dry, warm season, SAFE harvested considerably less extra-large-size grapes and a much bigger quantity of large-size berries of a normal quality, which it pushed into the market. "Because of the boiling temperatures we had to adjust our harvesting methods and cool down picked grapes quicker," he says.
Far East opens arms to SA exports; rallying rand turns up pressure
While SAFE has continued exporting to Europe, the United Kingdom and Middle East this year, it also joined fellow SA exporters in shipping more grapes to the Far East, a market that has been welcoming SA produce with open arms. Wibo van den Ende, Marketing & Sales Director, SAFE, explains: "Our country's exports to the Far East are definitely on the rise, especially as we're successfully matching their shopping-list musts: superb varieties, an extra-large berry size and excellent presentation."
Traditionally SA's key competitors are Chile, Peru, Argentina, India, California and Australia. "This year, in the European market, SA's been facing competition from Brazil and Peru at the season's start, and from Chile and India at the end. We've experienced far more pressure in Europe as there's been a greater supply to this region – from the USA, Chile, Peru and India. In fact, around the globe more table grapes were produced this year – because of higher yields from later a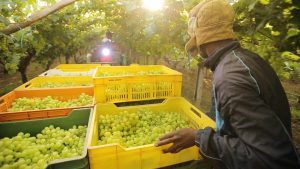 reas," he says.
SA has shipped more grapes to Europe, the Far East and Middle East – thanks to a demand for its varieties and quality – and less to Russia and the USA. "A definite advantage for SA is our produce's superior quality and our strict quality standards; that's why several markets and buyers prioritise our fruit," adds Van Rooyen.
SA also still enjoys a good window as the country doesn't share too many ripening and delivery timeframe overlaps with its competitors. "There are times when SA is a standalone exporter. When we do have overlaps with competitors – at the SA season's beginning and end – we have our job cut out for us," says Van den Ende.
He adds that the current strong rand has also not made life any easier for SA's exporters. "In dollar and euro prices we perform well and even surpass selling prices we've reached in the past, but once these figures are converted back to rand, they instantly lose their power. The rand's too strong now; we need a weaker rand."
Seeded versus seedless
White seeded table grape varieties have been dubbed by some "an endangered species" and it is true that the number of markets seeking seeded cultivars is shrinking. However, according to SAFE, there is still a market for red and black seeded varieties in Europe, Russia, the Middle East and Far East.
"This year we've once again seen our seeded varieties – Dan-ben-Hannah, Victoria and Red Glob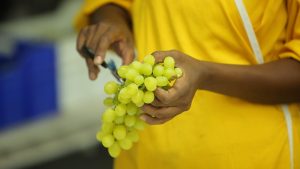 e – coming to the party with exceptionally high volumes of a good quality. Seedless grapes might achieve higher selling prices, but they turn out lower yields per hectare. When one adds up the figures, both result in roughly the same net agricultural income," explains Van Rooyen.
About 5% to 8% of SAFE's overall crop consists of seeded varieties. "Because they're so fertile (their berries enlarge naturally) and cost less to prepare for harvest, we're keeping our seeded-grape blocks which still produce satisfactorily. Those that don't, we're replacing with seedless ones."
Laying the table for 2017/18
According to Van den Ende, SAFE and other SA exporters should expand their reach in the future and ship to destinations outside Europe, as well as new, emerging markets.
"Where we followed a more market-driven approach in the past, we now have to pack, size and deliver a tailor-made product with specific receivers in mind – be it clients, retailers or areas. Previously, we started exporting as early as possible and competed for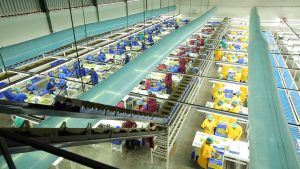 as long as possible. Those days are over. We need to execute our planning carefully – per variety and per market."
He adds that disciplines across the whole supply chain should be performed to the highest standard – from harvesting, packing, cooling and sizing, to loading into containers. "Quality control is of the utmost importance," concludes Van den Ende.