SAFE headquarters' enthusiastic and charming office administrator, Abigail Newman, is the first point of contact for clients and visitors calling and visiting SAFE.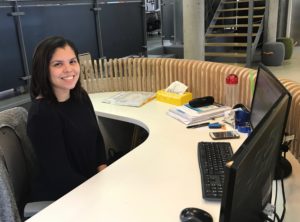 Abigail describes herself as an all-rounder: "My job is to meet and greet clients and visitors, manage the switchboard, and attend to the day-to-day running of the office including ordering stationery and groceries and managing the cleaning staff.
"As part of the health and safety team I've attended first aid courses, and I'm also a member of the social team, that organises all the office functions.
"I also assist the finance and HR teams where necessary, and take care of numerous ad hoc things that other people can't get to and which ensure the office runs smoothly. SAFE has a strong team ethic and most of the decisions about running the office are based on team participation."
Abigail says that among the things she enjoys most about her current job are her colleagues, and being the go-to person for sorting out any problems that arise in the office.
Before joining SAFE, she gained valuable experience working as a content moderator for a major property portal and then spent time at a large estate agency group. These positions gave her the confidence and skills to deal with almost any eventuality, and she carries this over into her position at SAFE.
In her spare time, Abigail is studying human resources through Damelin.
"Working during the day and attending classes three nights a week after work is tough, but I'm really enjoying the course and I have a goal to accomplish, which makes all the stress worthwhile," says Abigail.