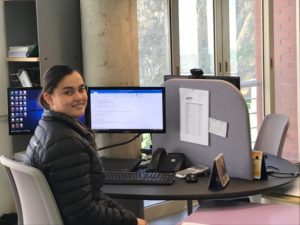 Skills development at the heart of SAFE's corporate thinking has led to the promotion of a quality assurance supervisor to the critical post of head of operations.
And SAFE Operations Manager, Nathalee Cloete enjoys the challenge and rewards of her post so much that she has absolutely no intention of ever leaving.
Nathalee began her professional career in 2012 as a quality assurance supervisor for an exporter based in Grabouw in the Western Cape.
In 2014 she joined SAFE where her training has included a trip to Argentina to study Openbravo, the cutting edge Enterprise Resource Planning (ERP) software currently being pioneered in the fruit exporting sector by SAFE.
Nathalee is responsible for coordinating production with export and sales at SAFE farms all around South Africa. "I get the projected harvest information from the farms before the season begins, so I know what each farm expects to pack each week. This enables us to plan our exports and sales.
"For instance, a farm will let me know that this week they are packing a particular variety of fruit. I communicate this to the marketing division and General Manager, so they know what to expect for the different markets to which we export.
"In season, we visit the farms to check the quality of the fruit and discuss possible issues that will impact on harvesting and packing. SAFE keeps up with the latest trends in grapes and citrus so we are always at the cutting edge of the fruit export industry."
When SAFE introduced the Openbravo ERP system a few months ago, Nathalee and other key staff members were sent to Argentina to learn the ropes.
"Open Bravo made a huge difference in managing operations. Instead of using several disjointed logistical systems to track the produce from the orchards and vineyards to our customers, the new system covers all aspects of the production, packing, transporting and marketing process, so you can instantly see what stages we are in at any time."
Nathalee says she thrives on SAFE's style of management which she says is "to set parameters and then allow staff to operate in ways best suited to them to achieve the desired goals and targets."
This, she says, she finds empowering, encouraging of her self-confidence, and drives to her having pride in her work.
When she isn't working, Nathalee enjoys camping and being out of doors, as well as  spending time with her "little chatterbox ",  her seven-year-old son, Eli.