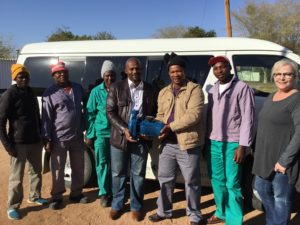 FAIR: Nuweland Farm Administrator, Esmelinda Visser handing over a water pump  to be installed at a local school.
SAFE's Nuweland farm  managers are busy with a Fairtrade audit – the third for the table grape producer near Augrabies in the Northern Cape.
Farm Administrator, Esmelinda Visser, says this comprehensive audit entails detailed interviews and discussions with employees, focusing on their experience of working on the farm.
"Fairtrade audits are carried out annually – it's not just a question of a quick once-off check and the farm is permanently accredited. Holding a Fairtrade label requires ongoing and sustainable improvements in living conditions on the farm, and this ties in perfectly with SAFE's policy of prioritising the well-being of its farmworkers," says Esmelinda.
The Fairtrade label is the leading sustainability stamp in the world and empowers consumers and businesses by giving them a choice to purchase ethical products.
The accreditation system was developed to encourage consumers to support products that originate from farms that have been certified as providing fair wages and safe working conditions. It also ensures a better deal for farmers, farm workers and the environment in developing countries.
Products bearing the Fairtrade label are audited against standards that cover labour rights, environmental and economic principles – the Fairtrade Development Premium and the Fairtrade Minimum Price.
To ensure high quality, transparency and consistency throughout the supply chain, Fairtrade employs independent auditors to annually audit compliance with Fairtrade standards.
According to SAFE's Marketing and Sales Director – Export, Wibo van den Ende, the demand for Fairtrade accreditation in Europe has increased tremendously.
"The receivers, supermarkets, and other clients are all embracing Fairtrade accredited products, which is a huge plus for SAFE, as we have several Fairtrade-accredited farms."
Esmelinda says the extensive staff welfare processes employed at Nuweland include comprehensive training and strict adherence to safe spraying methods.
"Staff are not permitted to work with sprays in the vineyards for longer than four hours without a break, during which they take a shower and change into fresh overalls. They also receive thorough training in the handling of the poisonous substances used, so they are equipped to deal with any problems that may arise."
Another way in which Nuweland cares for workers is that mothers of babies under nine months receive transport home to breastfeed during the working day.
And the nine new housing compounds, constructed to the latest South African building standards, have larger than average rooms to ensure staff are comfortable.
"Customers pay an additional premium for produce with a Fairtrade label, and the extra funds go directly into a trust, which is managed by the workers. Each year, 25% of the trust fund is paid to the workers – permanent and seasonal. It's a Fairtrade requirement that seasonal staff receive the same benefits as permanent workers.
"Workers are regularly asked for suggestions on how best to spend the funds in the trust to improve the lot of people in the community. One of the suggestions recently implemented was the installation of a water pump at a local school, and another suggestion soon to be realised is painting of another school.
"One of our most exciting projects in the pipeline is the building of a soccer field and a netball court on a piece of land not suitable for growing grapes. We plan to level the land early in August, to provide facilities with irrigation, which can be used by the two local soccer teams and keen netball players."