Twenty-nineteen is going to be a great year for ambitious SAFE farm workers who show potential thanks to the rollout of a long-planned project to identify and train employees in leadership skills.
The project has already taken its first steps with training at Skilderkrans, the SAFE citrus farm near Hoedspruit.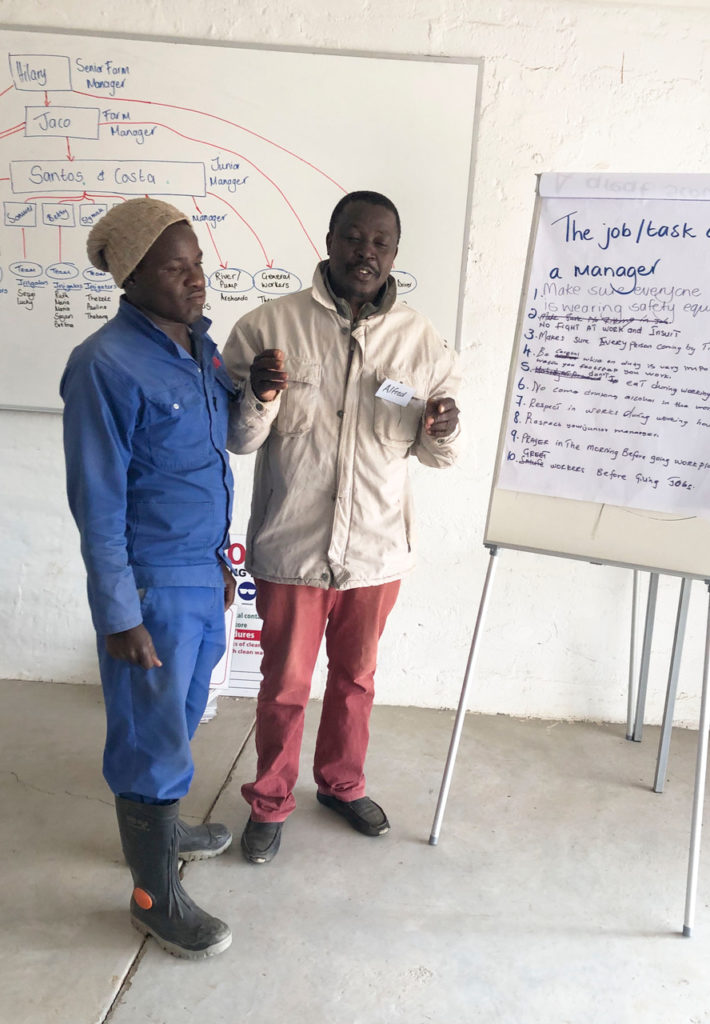 Managed under the guidance of Rian du Toit, SAFE Group Manager for Human Resources, the project will eventually visit all SAFE farms with the aim of developing a core of leadership excellence throughout the company.
"We want to make a real difference in the lives of the people who work for SAFE", says Rian, an MBA graduate of the University of Stellenbosch Business School.
The courses are aimed at junior to middle management farm workers and open to any farm employee with potential who shows a willingness to enhance their leadership skills. Managers who want to refresh their skills are also welcome to attend the courses.
"We want to instil the belief that working at SAFE is not merely a job, but provides those with the desire to improve themselves with an opportunity of a career – a journey through life."
SAFE has contracted experienced agriculture and corporate trainer Daleen Turner of Daleen Turner Consultancy, based in Paarl in the Western Cape, to roll out the programme.
"There is a hunger for skills development in our country and it is a privilege to play a small role in enhancing management's skills, to improve people's lives and to grow businesses," says Daleen.
Daleen says she has to be "sensitive" in her approach. "School for some people was not a great experience. I have noticed that some learners are at first uncomfortable with being in a training session and they initially expect it to be schooling.
But it does not take long for them to realise that what is being offered is not a threat but an opportunity to improve themselves – and their enthusiasm grows".
The courses are designed to include people with no education at all, from those who are illiterate to those who have some education. They are conducted on the farms during "low" season when farm workers are not fully engaged in planting, harvesting or other critical farm work.
According to Rian, the programme is entirely within SAFE's business philosophy. SAFE, he says, has a progressive approach that empowers the people employed by the company to grow and develop their skills.
"We believe that, by being open-minded in our approach and trusting our employees to be self-motivated and responsible, delivers far more positive results than micromanaging people does," says Rian.
The training programme comprises technical and people management components with experts being called upon to explain and illustrate the farm activities as required. "Preferably the actual activities on the farm at the time of the training should be mimicked in the training," says Rian.
"Employees will be subjected to a simple assessment to determine their state of development and readiness for the programme. At each new session an overview of the previous session will be done to ensure that the content is properly transferred."
An accredited course certificate will be issued to those who complete the programme – but the real benefit will be in the greater opportunity that will be within their grasp thanks to the skills training they have received.